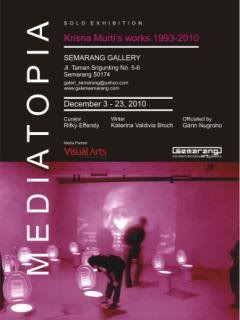 MEDIATOPIA: KRISNA MURTI'S WORKS 1993-2010,

shows 22 videos, 12 new digital works and 1 new interactive sound work.

Curator: Rifky Effendy

Writer : Katerina Valdivia Bruch

Semarang Contemporary Art Gallery,

Jl. Taman Srigunting 5-6, Semarang (Central Java).
will be officiated by International film director GARIN NUGROHO,

on December 3, 2010 at 7 pm.

Exhibition: Dec 3-23, 2010.