EMPTY THEATER a video theater by Krisna Murti @ Bentara Budaya Jakarta, 13 - 18 July 2010
KRISNA MURTI
solo exhibition
" EMPTY THEATER "
Bentara Budaya Jakarta, 13- 18 July 2010
Jl. Palmerah Selatan 17 ( Komp.KOMPAS) Jakarta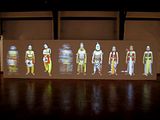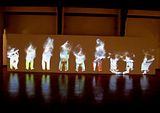 His work in this regard serves autobiographically to tell the artist's personal story of a subject whose cultural horizons are cosmopolitan, and who over time has experienced a process of separation from certain cultural horizons.
For example, Krisna suggests that his position to the Wayang Wong is one of an outsider, exoticizing what was once part of his cultural and social horizons, but from which he has become estranged. On the other hand, he emphasizes the discomfort of such exoticization by conciously taking up the position of the exotic object.
Pushing this role, in his Empty Theater (video theater) the artist turns himself into artifact, visually recorded in a way that mimics photographic genres associated with scientific methods of collecting, recording and organization in anthropological documentation, methods of museumization that were brough to bear during the colonial era and perpetuated by the government after independence. (Amanda K. Rath, US/Germany)



Posted at 09:55 am by
videolab
Paket Umroh Murah


December 28, 2014 12:56 AM PST



great blog and nice info.